Construction Dumpster Rental for Arvada, Lakewood, Golden, Wheat Ridge, and surrounding area Contractors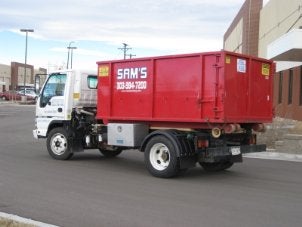 As a contractor, you need to efficiently remove existing materials so you can get started on a new project. Instead of handling waste management in-house, you might consider working with a dumpster rental company in Denver. Sam's Dumpsters will gladly provide you with a dumpster that fulfills all your waste management needs so you can provide your clients with outstanding construction, demolition, or renovation services. We are a fully licensed and experienced dumpster rental company serving Lakewood and the rest of the Denver metro area.
Projects that Require a Dumpster
A dumpster can simplify a wide range of projects. If you provide the following services to your Denver clients, let Sam's Dumpsters handle your waste management needs.
Fencing: Before you can put up a fence, you'll need to take down your client's old fence or whatever else may be occupying the project site. A smartly placed dumpster can provide a simple means of getting old materials out of the way.
Renovations: Most renovation projects involve a lot of demolition. Renting a dumpster is a great way to dispose of old tiles, hardwood floors, cabinets, fixtures, and anything else.
Reroofing: If your client has an old or leaky roof, you will likely need to completely remove the old shingles before installing the new ones. Again, having a dumpster handy can greatly simplify the process.
Benefits of Dumpster Rental
Rather than attempting to handle waste management yourself, consider having Sam's Dumpsters deliver a dumpster to your worksite. Here are just a few of the benefits of trusting us with your waste needs.
No Hassle: Once you schedule a project, all you need to do is call us, tell us which dumpster size you need, and we'll provide prompt delivery. After you're done, we'll remove the dumpster and dispose of the waste without any extra hassle.
Waste Precision: Renting one of our dumpsters is an excellent alternative to renting a giant roll-off dumpster. We can help determine your precise waste management needs and provide you with a 3, 6, 9, 12, or 16-cubic-yard dumpster.
Accessibility: It's important for there to be a short distance between the jobsite and dumpster.
Call Sam's Dumpsters at (303) 835-6974 if you have any questions about the dumpster rental process. We're happy to make demolition, construction, and renovation projects simpler for contractors throughout the Denver metro area.
Why Choose Us?
We make it easy and affordable!
Denver's oldest and largest mini dumpster rental company.
Exceptional service.
Local Denver family owned business.
Mini dumpsters in 4 sizes.