Residential Dumpster Rental in Arvada, Lakewood, Golden, Wheat Ridge, and surrounding area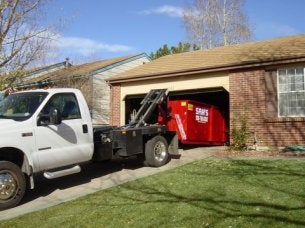 Owning a home is hard work. Though regular maintenance will allow you to enjoy your home for many years, there will come a time when you need to make drastic changes. When the need for demolition or renovation arises, you'll likely require substantial waste management services. That's where Sam's Dumpsters of Denver comes in. We've been providing homeowners in Lakewood, Golden, Wheat Ridge, Arvada and elsewhere in the Denver area with dumpster rentals since 1997. We have just the right sized residential dumpsters for whatever home improvement or clean-out project you have planned.
Popular DIY Projects
If you consider yourself a handyman, you probably like to handle major home improvement jobs yourself. If you don't have much experience, however, consider hiring a professional contractor. Here are a few common DIY projects that require a dumpster rental.
Bathroom Renovation: Bathrooms tend to go out of style once every couple decades. If you have experience with plumbing and tile work, a bathroom renovation could be a good project for you.
Kitchen Renovation: The kitchen is perhaps the most often remodeled room of all, and usually has a great return on investment. If your current kitchen can't keep up with your culinary prowess, a renovation may be in order.
Patio Construction: An elegant patio is a wonderful asset when it comes to entertaining guests. With the right tools and materials, you can turn your backyard into an oasis.
Residential Uses for Dumpsters
A dumpster can make a lot of residential projects a lot easier. Instead of loading your truck with debris and making repeated trips to the dump, you can simply fit it all into a rental dumpster and we'll pick it up when you're finished.
Clean-Out: If you're moving into a place that needs significant cleaning, or if one of your tenants is particularly messy, a rental dumpster can be an extremely useful tool.
Remodeling: The average remodeling job generates a lot of debris. You might consider renting a dumpster if you're planning any of the above DIY projects.
Moving: To make your next move easier, consider getting rid of all the items you don't need and can't donate. Renting a dumpster can help make this process as painless as possible.
If you need a dumpster in the Denver area, call Sam's Dumpsters at (303) 835-6974. We've made a lot of residential clients happy over the past 18 years, and we're proud to have an A+ rating with the Better Business Bureau.
Why Choose Us?
We make it easy and affordable!
Denver's oldest and largest mini dumpster rental company.
Exceptional service.
Local Denver family owned business.
Mini dumpsters in 4 sizes.