What are Crane Lifted TUBS?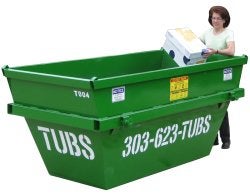 Before getting a dumpster bag from your local home improvement store, see if crane lifted TUBS are for you. Not only are TUBS more economical and sturdier than dumpster bags, but they can be placed in hard-to-reach places where a roll-off dumpster won't work. Elevated work surfaces and fences are no problem for TUBS, since they are placed and removed by an articulating crane and can carry up to 3,000 pounds of debris. And with TUBS, you won't have to worry about debris falling out of the sides as you would with a dumpster bag.
Your Denver waste disposal provider can give you more information about crane lifted TUBS and other dumpster rental solutions. Consider TUBS or other rental dumpster options for home remodeling projects, re-roofing, yard cleanup, garbage cleanup, spring cleaning, and any other project that creates lots of debris.